International comparisons of gross domestic product of the CIS countries based on 2014 data
The National Statistical Committee of the Republic of Belarus presents the main results of the international comparisons of gross domestic product (GDP) in the CIS countries and for a group of countries coordinated jointly by OECD and Eurostat, based on the data for 2014.

The key result of the International Comparison Programme (ICP) is the statistically valid estimation of purchasing power parities (PPPs) for all countries participating in the round and thus revaluation of GDP and its major components into a single currency. This forms the basis for detailed comparative studies of the scale and the structure of different economies in the world, net of currency effects and national price patterns. PPP is a currency ratio that takes into account price levels in various economies and is defined at par value of a set of goods and services valued at prices and currencies of economies under comparison.

The decision on the next round of the GDP comparison by PPP based on the 2014 data was taken by the Council of Heads of statistical services of the CIS member states. General comparison activities were coordinated by the CIS Statistical Committee (CISSTAT) with the assistance of Rosstat. Based on the results of the CIS ICP round, the CISSTAT, jointly with the World Bank and OECD, made estimates to combine the CIS results and OECD-Eurostat results, having produced PPPs of the national currencies of the CIS countries to U.S. dollar for 2014.

The following CIS countries participated in the 2014 ICP round: Armenia, Azerbaijan, Belarus, Kazakhstan, Kyrgyzstan, Moldova, Russian Federation and Tajikistan.

According to the 2014 ICP results, the GDP of Belarus by PPP was US$ 177.9 billion; GDP per capita US$ 18 773.

Belarus is ranked 3rd among the CIS countries for the per capita GDP by PPP.
Main results of the international GDP comparisons for 2014 based on purchasing power parity of national currencies
Country

GDP,
US$ billion

GDP per capita, US$

Purchasing power parity (PPP), national currency units/US$

Commonwealth of Independent States

of which:

Armenia

28.9

9 587

167.125

Azerbaijan

160.3

17 022

0.368

Belarus

177.9

18 773

4 530.273

Kazakhstan

424.4

24 549

93.481

Kyrgyzstan

24.7

4 421

16.239

Moldova

21.8

6 130

5.139

Russia

3 722.0

25 477

21.279

Tajikistan

27.2

3 299

1.674

ОECD-Eurostat

of which:

Albania

32.7

11 298

42.654

Australia

1 100.3

46 499

1.459

Austria

415.3

48 603

0.796

Belgium

502.1

45 005

0.798

Bosnia and Herzegovina

39.9

10 437

0.684

Bulgaria

125.6

17 391

0.666

Canada

1 597.6

44 946

1.238

Chile

403.1

22 597

366.127

Croatia

93.1

21 990

3.525

Cyprus

26.0

30 456

0.677

Czech Republic

340.6

32 359

12.666

Denmark

269.8

47 810

7.329

Estonia

37.5

28 516

0.527

Finland

226.6

41 482

0.906

France

2 658.5

40 142

0.805

Germany

3 810.9

47 058

0.767

Greece

287.9

26 431

0.618

Hungary

251.5

25 494

128.808

Iceland

14.5

44 292

138.340

Ireland

236.7

51 292

0.816

Israel

287.0

34 945

3.850

Italy

2 204.3

36 262

0.735

Japan

5 013.0

39 435

102.473

Korea, Republic of

1 706.7

33 847

870.738

Latvia

47.6

23 852

0.496

Lithuania

82.6

28 154

1.530

Luxembourg

55.9

100 052

0.882

Macedonia, Republic of

28.1

13 570

18.807

Malta

13.9

32 456

0.583

Mexico

2 151.6

17 973

8.002

Montenegro

9.6

15 396

0.361

Netherlands

826.6

49 018

0.802

New Zealand

166.0

36 614

1.443

Norway

337.3

65 658

9.311

Poland

977.2

25 392

1.760

Portugal

299.6

28 806

0.578

Romania

413.7

20 774

1.615

Serbia

98.4

13 791

39.737

Slovakia

157.2

29 021

0.483

Slovenia

63.9

30 997

0.584

Spain

1 564.5

33 670

0.663

Sweden

449.9

46 405

8.750

Switzerland

501.4

61 228

1.284

Turkey

1 522.3

19 868

1.148

United Kingdom

2 630.4

40 719

0.693

United States

17 393.1

54 484

1.000
Gross domestic product of the CIS countries in 2014
(PPP, US$ billion)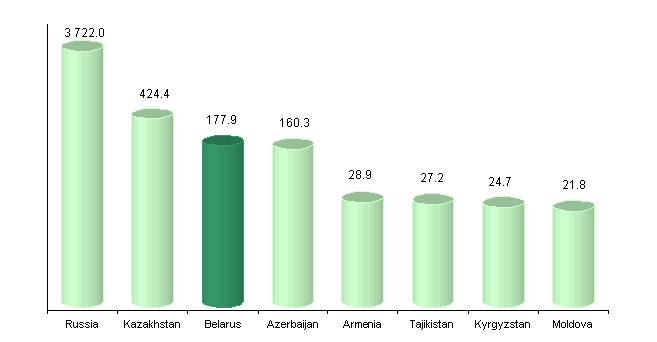 Per capita gross domestic product
of the CIS countries in 2014
(PPP, US$ thousand)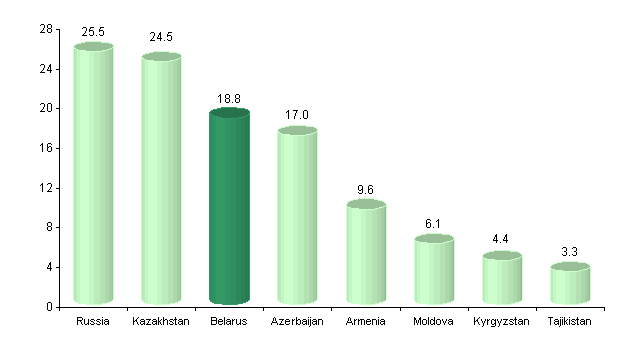 Print version