Belarus in figures, 2017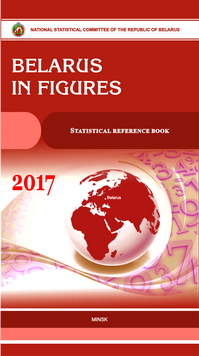 Document type: Statistical data book
Registration No.: 03/218-р
Registration date: 7 April 2017
Organization: National Statistical Commettee of the Republic of Belarus (Belstat)
Periodicity: Annual
Language: English
Abstract:
The statistical reference book provides brief information on socio-economic situation in the Republic of Belarus.

The reference book contains information on the number and natural population change, migration processes, labor resources, indicators describing the standard of living of the population, education and health, culture, tourism. Placed data on the dynamics and structure of GDP, the development of different sectors of the economy: industry, agriculture, construction, transport, communications etc., also data on domestic and foreign trade, foreign investment, prices and tariffs.

The reference book is published in Russian and English languages, illustrated with graphs and diagrams.


Archive
Print version