Transport and communications in the Republic of Belarus, 2018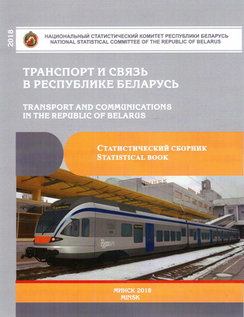 Document type: Statistical data book
Registration No.: 27/420-р
Registration date: 28 June 2018
Organization: National Statistical Commettee of the Republic of Belarus (Belstat)
Periodicity: Other
Language: Russian, English
Abstract:
The statistical book presents information on the developments in transport and communications of the Republic of Belarus for 2011-2017.

The publication provides data on the main socio-economic indicators of transport, postal and courier activities and telecommunications: employment, salaries, fixed capital investment, manufacture, exports and imports of transport vehicles and means of communications, financial indicators and tariffs.

The information on freight and passenger transportation by all modes of transport, length of motor roads, transport accidents, activities of logistic centres is included. Data for the main indicators are provided in dynamics for a number of years in a breakdown by regions and the city of Minsk.

Statistical indicators are furnished with brief methodological explanations; graphs and diagrams are also presented.
Archive
Print version